A quick comparison of wordpress.com vs org
Differences exist between wordpress.com vs org. Both platforms have quite distinct processes for getting started. Choosing the best one will be essential in the long term, whether for constructing personal blogs or an eCommerce business.
A well-liked content management system (CMS) for creating different websites is WordPress. People, however, could mix up its two linked platforms, WordPress.com and WordPress.org.
This article will evaluate WordPress.com vs. WordPress.org in terms of customization, functionality, and cost.
wordpress.com vs org
You could be asking yourself, "What is WordPress?" One of the most widely used website construction platforms nowadays is WordPress. Since it is free and open source, any member of the WordPress community is free to edit and distribute it. Anyone may get the core WordPress software package from WordPress.org, or they can have it installed as part of a hosting plan from a web hosting company.
Additionally, WordPress.com supports WordPress. It is managed by a for-profit organization named Automatic, which was founded by one of the original WordPress developers to host websites that use WordPress. WordPress comes pre-installed as part of the hosting services offered by WordPress.com, so users don't need to download or install it.
The choice between wordpress.com vs org mostly hinges on the degree of control a user wants over the design and maintenance of their site since the distinctions between hosted and self-hosted websites result in differences between WordPress.com and WordPress.org.
Hosting and Self-Hosted Websites
Self-hosting entails that a user has complete control over all the site's contents and source code and may deploy them however they see fit. A self-hosted site is hosted and has its domain name by one of several web hosting companies that offer server space for all different types of self-hosted sites. Self-hosted website owners are free to alter the site files to personalize the website and add any required features.
For people who wish to publish a site fast and simply without having to deal with design, continuing site maintenance, or other technical concerns, a hosted site employs web space given by a hosting firm. It can be a full-service solution. 
WordPress.org only makes the WordPress site package accessible for download and use in self-hosting as the user desires, in contrast to WordPress.com, which is a hosted platform that uses the hugely popular WordPress software.
A quick comparison of wordpress.com vs org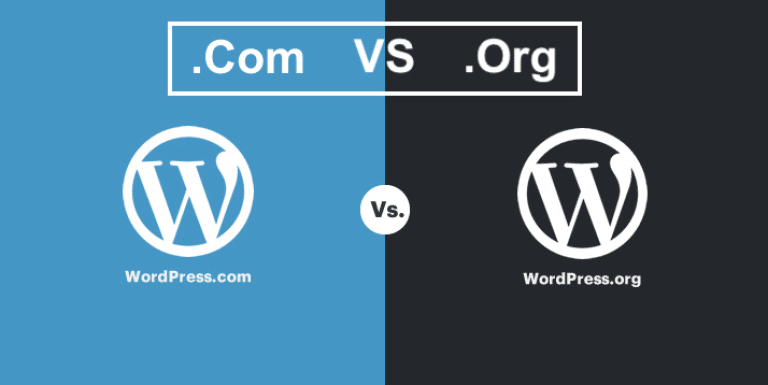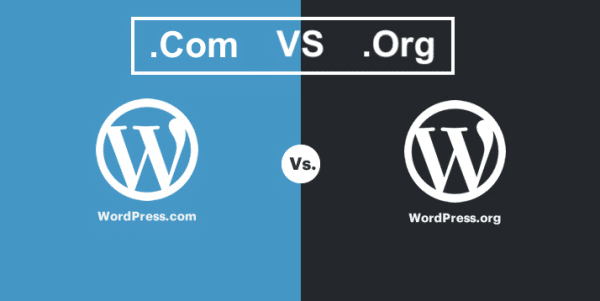 Check out a quick comparison of wordpress.com vs org:
Effortless Use:
WordPress.com: All that's needed is setting up an account and choosing a plan. The WordPress dashboard includes a setup manual.
WordPress.org: Requires purchasing a domain name and a hosting account. A comparable WordPress dashboard is used, however, there is no setup manual.
Customization and Flexibility:
com: Access to themes and plugins is restricted. More custom CSS is possible. WordPress files are inaccessible.

org: You may install any themes and plugins from WordPress.org. For more customization, the hosting account has access to WordPress files.
SEO:
com: To access SEO tools, you must have a higher plan.

org: Any SEO plugin may be installed using WordPress.org.
wordpress.com vs org Price:
com: $4–$25 per month for WordPress.com. There is a free plan offered.

org: Depending on the hosting and add-ons utilized, prices can range widely from less than $100 to more than $1,000 per year.
Performance:
com: Uses the included hosting service WordPress.com.higher plans are needed to use optimization plugins.

org: You may choose an appropriate and well-optimized hosting service through WordPress.org.Plugins can be installed to improve performance.
Security:
com: Restrictions are imposed by the platform. Higher plans are needed to create backup files.

org: It offers more choices for putting various security measures into place.
eCommerce:
com: To access shop features, you must select the eCommerce plan.

org: With a free plugin, you may launch an online store using WordPress.org.
FAQs: wordpress.com vs org
We frequently receive inquiries about the differences between wordpress.com vs org because this is a hot topic and WP-Beginner is the largest free WordPress reference site for beginners.
Below, we've attempted to address the most often requested queries:
Which Is Better Between WordPress.com or WordPress.org?
If you're a personal blogger and don't care about making money from your website, go with the free WordPress.com option.
We advise utilizing self-hosted WordPress.org if you're a company or blogger that wishes to monetize your website. You are free to design and build your website any way you see appropriate.
Utilizing a self-hosted WordPress website, which costs only $46 yearly, will provide you far more value for your money than utilizing WordPress.com's Business plan, which contains a variety of intricate features and costs $300 per year for each website
WordPress.org is without a doubt the best platform, in our opinion. Every professional blogger, small company owner, and even household name like Disney uses that platform.
Can you make money using a free WordPress.com website?
 You cannot run advertisements on WordPress.com's free websites. If your website has a lot of traffic, you can sign up for their WordAds program and split your advertising money with WordPress.com.
All you can do is add a few affiliate links to your website.
There aren't many ways for you to make money from the material on your WordPress.com website.
In contrast, WordPress.org gives you complete control over the content management system, giving you limitless choices for monetizing your new website.
Which wordpress.com vs org is better for e-commerce?
WordPress.org is the easiest platform to use when building an e-commerce website. To create your store, you may use WooCommerce or one of the several WordPress plugins for eCommerce, membership, and learning management systems.
WordPress.com also has eCommerce plans, although they start at a costly $540 per year if you're just getting started.
See our article for information on how to launch an internet business on a tight budget. Along with all the potent tools you need to expand online, it explains how to obtain your domain for free. Which wordpress.com vs org is better for e-commerce?
Conclusion | wordpress.com vs org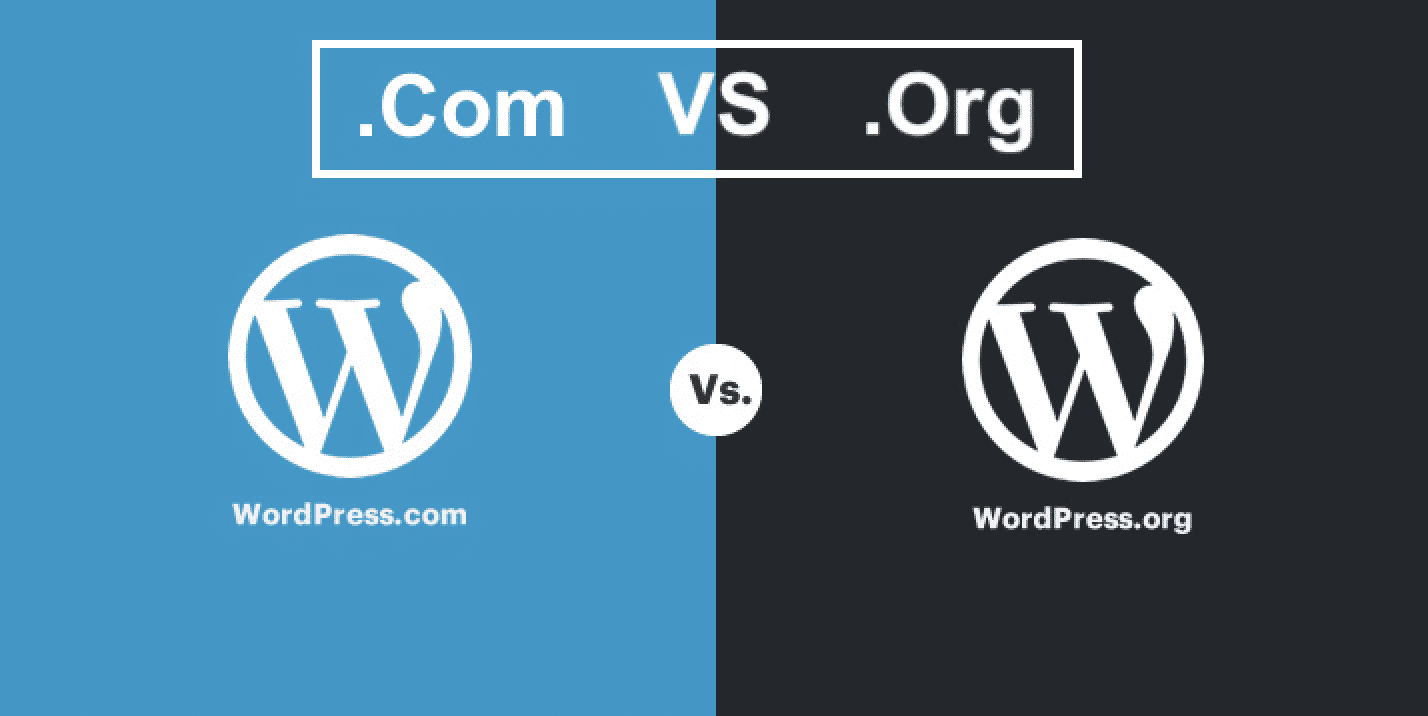 WordPress.com vs org should I use?
Which of these two services ought you choose to use? Since it ultimately depends on your needs, I have no notion. But to use generalizations:
If you're ready to put in the time to create a fully personalized website yourself or if you want to compare hosting prices, you should utilize WordPress.org.
If you want to put up something quickly, are okay with having less flexibility, and are prepared to pay a little bit extra for support and simplicity of use, you should choose WordPress.com.
See our article for information on how to launch an internet business on a tight budget. Along with all the potent tools you need to expand online, it explains how to obtain your domain for free.
Read More: Best web hosting (3 Great Options)